By Devan Mighton – Special to Lakeshore News Reporter
Exactly 10 years ago, Robert Earl Stewart didn't know it, but he was fighting for his life.
At nearly 400 lbs., the LaSalle Post editor was anchored to his desk. His colleagues started noticing his personal struggles, which even made it difficult for him to breathe, but he continually dismissed their concerns. However, after his doctor informed him that he was on the precipice of the point of no return, he stopped running away from his troubles and raced them head-on.
Released in Canada on Feb. 22, 2022, Stewart's new novel, The Running-Shaped Hole, is a quick-witted and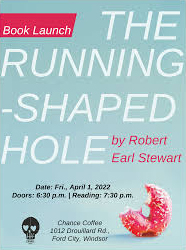 inspiring memoir of how he turned his life around and discovered his new life-saving passion for fitness.
"I'm not a runner who writes, I'm a writer who runs," admits Stewart. "I started running because I was in a serious, precarious situation with my weight. This was when I worked at the LaSalle Post, when we actually had an office. Even though each newspaper was basically a one-man operation, you were expected to be at your desk a lot."
Stewart explains that he was always a big kid and played both offensive and defensive lineman in football when he attended Walkerville Secondary School in Windsor. He says it was when he started attending university and, later, working in the newspaper industry, where living and eating at your computer, not moving for six-to-eight hours at a time, caught up with him.
"Between the end of high school and 2012, I had gained about 160 lbs.," he recalls. He was constantly labouring for breath and would be winded by simple things like talking on the phone. "After being told that it was unsustainable, with having difficulties breathing, difficulty talking… I got to a place where I couldn't go on like that and I started to walk."
Stewart began walking every day, and after three months, he says he started running. At first, he kept the jogs short, but soon escalated to a kilometre at a time, then five.
After a while, other runners started suggesting that he keep a running journal to record his journey, but after finding a suitable running app on his phone, the inner-writer came out in his journals instead.
"My running journal started to include narratives about the people I'd run into on my run," explains Stewart. "Sometimes I'd run from my home in Walkerville, out to the Windsor-Essex Community Publishing offices on Lesperance. I'd wake up early and put all my stuff in a bag on my back and run 16 kilometres to work, have a shower there, and run home."
"I'd start developing these stories about things I was figuring out about myself and how I think about things, and I'd run into people and have conversations—it was becoming more of a diary of my running life."
These stories morphed into the inspiring and self-deprecating tale that is The Running-Shaped Hole. Stewart admits, however, that his self-inflicted jabs were mostly a defence mechanism.
"It was always a way to take the heat off of myself," he reflects. "I always figured that someone was about to make a joke about how much I weighed, so I might as well cut them off at the knees and make the first joke and say stuff so cutting and so hurtful about myself that they won't be able to top it and they're just going to keep their mouth shut."
He says that, in the end, the self-deprecation changed into fishing for compliments. He would say something terrible about himself, in hope that friends and colleagues would tell him to be less harsh on himself. Unfortunately, for a while, he allowed himself to believe that those reactions meant his predicament was not as serious as he thought.
"I don't know if it was a good thing or a bad thing," admits Stewart. "I think I did a lot of damage to myself by putting myself down. It's just my default—to joke about it." In the end, his preference for humorous writing, even at his own expense, leads to an honest and endearing read.
Ten years on, Stewart is grateful for the turn his life has made and if he could speak to his younger self, he would advise him to be brave.
"I think I would say to myself, you're not going to believe what you're going to start doing," he says. "My whole life revolved around not running. I hadn't run at all, in any serious way, since I was a high school football player. Running scared me, it was frightening, I found it embarrassing once I got to a certain weight. It activated every self-conscious piece of me. People are going to see me when I'm running, and see all the things about myself that I don't like—they're going to be in motion and that's going to suck.
"You're going to be scared, it's going to hurt, but you're going to see results. It'll be the first time in your adult life that you're going to be at piece with how you look and feel."
Robert Earl Stewart's The Running-Shaped Hole is available for purchase wherever books are sold.